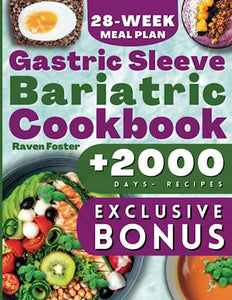 Auralia Bariatric Store
Gastric Sleeve Bariatric Cookbook: 2000 Days Of Tasty Recipes For Healthy Stomach Recovery & Quick Weight Loss After Surgery. Bonus: Conscious Eating Tips for Long-Term Results & 28-Week Meal Plan
Regular price
€39,99
€0,00
Unit price
per
Tax included.
Shipping
calculated at checkout.
Ready to start a new chapter in your life after bariatric surgery? Unsure about your post-surgical diet and nutritional needs? Worried about not achieving and maintaining your weight loss goals?
If the answer is yes, read on.

The Gastric Sleeve Bariatric Cookbook is your comprehensive guide to a healthy recovery and successful weight loss journey after bariatric surgery. With over 2000 days of delicious, easy recipes tailored to your needs, this gastric sleeve cookbook ensures that you get the nutrients and the right type of food you need during every stage of your recovery.

This complete bariatric cookbook for gastric sleeve patients includes a four-phase eating plan that serves as your roadmap for a seamless and enjoyable dietary transition from clear liquids to solid foods after surgery.

Covering every stage of your weight loss journey, this practical bariatric cookbook provides expert tips and strategies for optimal results. It guides you through the recovery period and helps you achieve and maintain your long-term weight loss goals.

In the bonus chapter on Mindful Eating Techniques, you'll learn how to confidently handle eating out and social situations, address occasional dietary missteps, prevent emotional eating, understand hunger and satiety cues, overcome weight loss plateaus, and savor every bite.

That's what the Gastric Sleeve Bariatric Cookbook has to offer:
Enjoy 2000 days of easy and delicious recipes that will satisfy you and eliminate any feeling of deprivation.

Follow our 4-phase diet plan to help you recover and adjust to your new stomach, from clear liquids to solid foods.

Benefit from the 8-week meal plan, including a 2-week plan for each recovery phase.

Use the 20-week meal plan to maintain your progress and reach your long-term weight loss goals.

Learn expert tips and strategies for each recovery phase to maximize your results.

Reset and refocus as needed with the 5-Day Pouch Reset Diet.

Indulge guilt-free with air fryer recipes that offer tasty meals without excess oil and calories.

Make informed food choices with the comprehensive food list as your guide.

And that's not all! By ordering now, you can also download TWO EXCLUSIVE BONUSES:
The 1-Year Gastric Sleeve Journal: to track your progress, identify food patterns, and make necessary adjustments.

The Bariatric Meal Prep Masterclass: : Learn essential meal planning and preparation strategies, efficient batch cooking secrets, and safe food handling tips.
Enriched with these special bonuses,

 
the Gastric Sleeve Bariatric Cookbook
 

is your ideal companion on your transformation journey.

Don't wait any longer. Order now and start your journey to a new, healthier, happier life today.
---
Share this Product
---