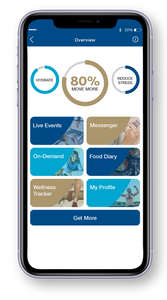 Auralia Bariatric Store
Bariatric Aftercare Program (12-month program)
Regular price
€159,99
€0,00
Unit price
per
Tax included.
Shipping
calculated at checkout.
Our 12-Month interactive aftercare program is suitable for any person who has had bariatric surgery of any kind. This is available 24/7 in any country. You can use this service regardless of where your surgery was performed. 
Delivered through an app which is downloaded to your mobile phone or tablet, patients will have access to:
Nutritional Support
Nutrition classes

Classes are generally 10-15 minutes each, delivering instantly helpful tips and tricks to developing healthier eating.
Classes include: Snacking slip ups, Weight maintenance, Meal planning, Meal prep, Non-dairy alternatives, Dining-Out options, Portion control, Protein shakes and smoothies, High protein foods, Healthy breakfast options, along with many more. Classes are continuously updated.
Cooking classes

Cooking classes cover the basics of weight loss and weight maintenance cooking options. All cooking classes are low calorie healthy options, suitable for bariatric patients.
Favourite classes include: Chocolate covered strawberry smoothies, cottage pie, Jerk Chicken, apple cinnamon chips, Moroccan meatballs, blueberry frozen yogurt bites, Pasta salad, Peanut butter cup protein shake and many more. Classes are continuously updated.
Dieticians

You will have access to an instant messaging service with a Dietician. This is an unlimited service for 12 months. Working similar to WhatsApp, you can send a brief message, ask a question or send a picture to your Dietician for advice.
Recipes and meal plans

You will have access to hundreds of downloadable recipes and meal plans covering breakfast, lunch, dinner and desert options. All recipes and meal plans are designed around weight loss and long-term weight maintenance.
Fitness Support
Fitness and exercise classes

Classes are categorised into beginner, intermediate and expert level, allowing for a patient-specific experience. All exercise classes can be completed in the comfort of your own home, following the instructor on screen.
Classes include: Cardio, Strength, Yoga, Meditation, Flexibility, Low-impact exercises, HIIT, Kickboxing, Circuit, Salsa, Hip Hop, Ballet, Running, Cycling along with many more. Classes are continuously updated.
Psychological Support
Lifestyle Modification classes

Long term weight loss and weight maintenance requires patients to develop life long changes to their lifestyle. Our lifestyle modification classes help with that. Most classes are held with a Psychologist.
Classes include: How to adopt better sleep habits, Self-care, Maintaining a healthy routine, Overcoming barriers to exercise, Happier living with self-acceptance, Stress reduction, Can exercise be fun?, Stress 101, Binge eating, Holiday survival tips, along with many more. Classes are continuously updated.
Mindset classes

Your mindset plays an enormous role in your long-term success. Developing small changes to your mindset can be a deciding factor in success. Mindset classes are held with a Psychologist.
Favourite classes include:

What to do when you feel stuck in your mood.
Resilience through a crisis.
Go from saying "I Can't" to "I can".
The old, the new and how to manage it.
Reframing negative self-talk.
Refraining distorted thinking.
Self-validation.
Build a better body image.
Many more classes are available. Classes are continuously updated.
Additional Features
Food diary

Our interactive food diary allows you to easily log all foods and drinks, calculating your daily, weekly and monthly calorie intake.
Barcodes are scannable to make this easier for you.
Weight loss tracker

Input your weight loss and see graphs on-screen showing your progress. If you sue a Bluetooth weighing scales, this can sync to your app for easier recording.
Step counter

Our app seamlessly counts your steps as you walk around every day, showing you your daily, weekly and monthly progress.
If you use a FitBit, this can sync with our app for easier recording too!
Goal setting

Set your own personal goals within the app including weight loss, steps, activities and calories. Our app will keep a record of your progress and encourage you to complete each goal.
Once you have purchased this app, our team will contact you within 2 business days, sending you a link to download the app onto your devices.
Once downloaded and signed in, you have instant access to all features.
---
Share this Product
---